2 Hollywood
Published on August 21st, 2015 | by Ken Cosentino
0
The Ultimate Badass
Recently, I had the opportunity to speak with Greg Carpenter, AKA Dr. Danger of Dr. Danger's stunts. There are few true daredevils left in this world, so I was super excited to sit down and chat with one. I called him during the afternoon and caught him just after he'd changed out of his "business attire", so I asked him if that meant he was just wearing fire retardant, double thick wide shin pads, and he replied "I was actually wearing a suit, but it's made out of wool which is somewhat flame retardant."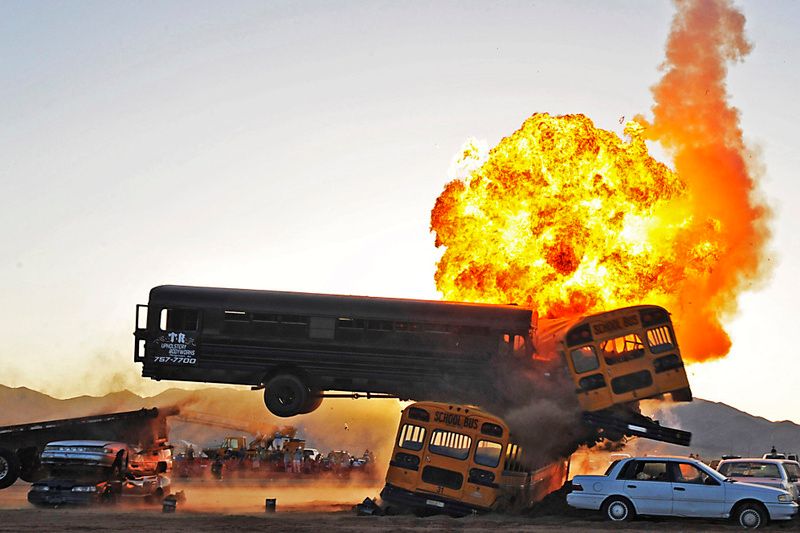 Right away, I knew I was dealing with a unique individual. After seeing him drive a school bus into another school bus on America's Got Talent, I decided to look up Dr. Danger and see what he was all about. What I found was a man with a very compelling story, and I decided to reach out to him. Originally from Sacramento, CA, he now lives in Austin, TX, where his 2013 History Channel TV show "American Daredevils" was based. As he says, "Me and another guy sat down with a couple of beers and said 'let's make a TV show' and we did, and we took it straight to the top."
At 53 years old, Greg wakes up every morning with aches and pains from several stunts and crashes. Sometimes he starts the day by soaking in Epsom salts. Not your typical 53 year old. He holds several World Records, one in which he ran 300 feet while on fire for about a minute. "There's been a couple of times when I thought I wasn't gonna pull out of it," says Greg, "there was one night when they couldn't put me out! The firetruck didn't work. I laid down at 20 seconds to get put out. At about 40 seconds I was wondering what was going on? I was trying to help. My girlfriend at the time was screaming trying to help. At about 55 seconds they put me out and at about 50 seconds I was thinking 'here? This is it? This is what it comes down to, some podunk place in Missouri, really? I was pondering that moment." Luckily, the fire marshal was standing 150 yards away and rushed over with a fire extinguisher just as Dr. Danger was contemplating his demise.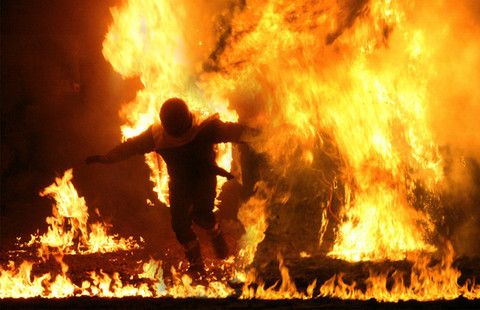 He tells me that it's not an easy job and there is a lot of "gypsy" involved. He strives to get noticed and, with great skill and effort (my words, not his), he has succeeded. When I asked him about the school bus stunt on America's Got Talent, he said he doubted he'd be able to pull off the stunt considering the show dictated the entire set up. Yet it was a home run.
To me, Dr. Danger and his stunt team seemed like a bunch of cool guys doing what they love. Inspired by Evel Knievel and Spanky Spangler, Greg began as a Hollywood stunt man but quickly decided that, "At the end of the day I want America to see that it's me, and not some well paid stunt man hiding behind an actor." He tells me that stunt guys and daredevils are both a dying breed: "The stunt guys have been replaced by computers. I don't know if it saves production companies any money but it's safer, nobody is going to get killed in the process. And on the daredevil side, people can just entertain themselves with their phone. Everything is so expensive so it's hard to get people out to the racetracks and monster trucks. People just don't show up as much as they used to." It's important to support entertainers like Dr. Danger, who encompass true Americana and preserve real American nostalgia.
I quickly became a fan of Dr. Danger and his Allstars. Dr. Danger is the Ultimate Badass, so I was delighted to discover a humble, down to Earth hero who was equally charming and friendly. He was quick to tell me about a group that he is working with, EMS Roaddocs, a squad of EMT bikers who are typically the guys looking at Greg and others on the stretcher. "If it's me and I'm the one on the stretcher or trapped in the vehicle, I just 'be cool' like in Pulp Fiction. 'Be cool honey bunny' I just get my shit together til they get me on the helicopter. But being in those situations, it traumatizes the people around me. [this experience] I couldn't relate to until I was on a helicopter ride a while ago and I realized that my responsibility to the fans and my family is to go out there, entertain people, take them to the edge but… I gotta stop crossing over that edge because it's not responsible of me to have the audience explain to their children that somebody is out there dead." He tells me then that his involvement with the EMS Roaddocs is due to a lack of support for EMT's, who save lives and keep people like Greg running.
When I tell him "You're a pretty sophisticated guy for someone who lights himself on fire," he laughs and tells me "I started in 1989 and I had a brief period of time for about 4 years when I had to go to federal college because I was also a smuggler…. it gave me the same high as stunts…" What was he smuggling? "I was smuggling pot and stuff like that. It was a way to make some money and I was the guy that you call when you gotta get the job done." I told him I didn't have to write that part, but he said it's part of the story. "If you're running around with $100,000 of someone else's money, someone will shoot you. There's cops after you. Someone will take you out. When I got out of prison, I became a musician and a writer. I've been out for 15 years now and just being Dr. Danger isn't quite as stupid as other things."
My admiration for Dr. Danger grew as he admitted his past to me. I asked him if he'd seen the film "Blow" with Johnny Depp and he laughed, telling me it's his favorite movie. We ended our discussion by him telling me how much he loves his girlfriend, Kathie, who also acts as his life coach and keeps him in line. "She allows me to be me, she allows the understanding of who I am." It's just a matter of time before someone discovers the Greg Carpenter story and decides to turn it into a feature length film. Until then, you can help support Dr. Danger by voting for his team to return to America's Got Talent as a wild card, and following him on Twitter.
Follow me on Twitter to see what Hype I'll be talking about next: @KenCosentino
Tweet