Happenings
Published on September 30th, 2019 | by Guest Editor
0
Coming to London UK an eLectronic SingulaRity!
Coming 15 Nov in the City of Westminster, the HEART of London UK …… it's not just a Concert  it's a Happening!!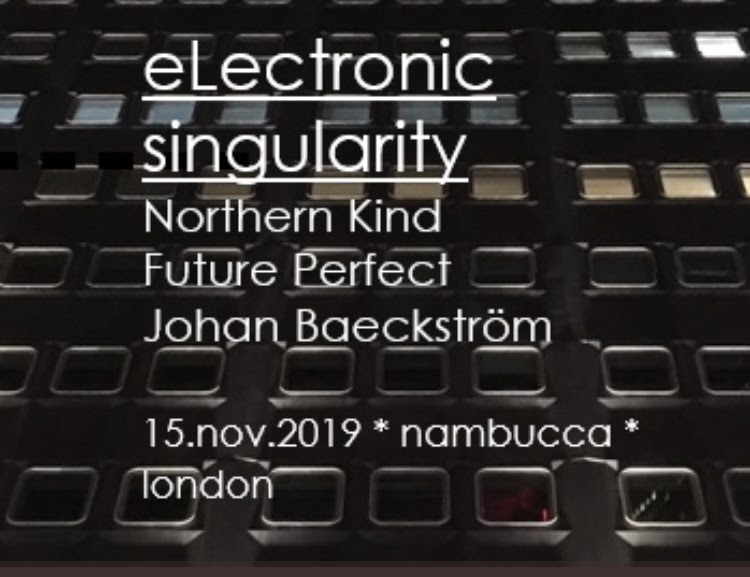 A One time concert of three amazing electronic / synth music artists held at the newly refurbished Nambucca! A convergence of bands from England, Wales and Sweden brought together for this unique event.
Tickets are limited, get yours today!  https://www.eventbrite.co.uk/e/electronic-singularity-tickets-60351737672?aff=ebdssbdestsearch
Stay and dance to electronic/synth music following the concert.
Venue is 18+.
Featuring the Music of :   #NorthernKind #FuturePerfect #JohanBaeckström
Northern Kind are electronic duo Matt Culpin and Sarah Heeley. Based in Leicester, UK the duo formed in 2006 and have gained a loyal, international fan-base. Their early albums '53 Degrees North' and'Wired', topped album and download charts across Europe and won them prestigious live dates  including a UK tour with pop legends Kajagoogoo, Recoil with Alan Wilder (ex-Depeche Mode) and Gary Numan at Postbahnhof, Berlin, and Heaven 17 at the 2013 Silicon Dreams Festival.
FUTURE PERFECT
Simon Owen – Music, Lyrics, Vocal&  Production
Rebecca Owen – Music, Vocals & Synths The now Husband & Wife couple Simon Rebecca Owen make up the incredible electronic/synthpop/EBM sound of Future Perfect.
They formed in 2009 taking their influences from the lyrical darkness of Joy Division & Depeche Mode, the experimentalism of early O.M.D and style and groove of Pet Shop Boys. Future Perfect has a sound that's looking forwards and never backwards.
In the early 90´s Johan Baeckström formed the swedish electropop duo Daily Planet together with vocalist Jarmo Ollila. The singles "Milky Way" and "Radioactive love" was released in 1995-1996, followed by the first – and only – album "The Tide". Until 2014, that is – In september 2014 they released their second album, called "Two", on Swedish label Progress Productions. It was followed by a 3rd album, "Play Rewind Repeat" in May 2017. In between those two, Johan released two solo albums, "Like Before" in June 2015 and "Utopia" in June 2018, both highly acclaimed by fans and media.
Check out the Website  https://www.electronicsingularity.co.uk/
Tweet